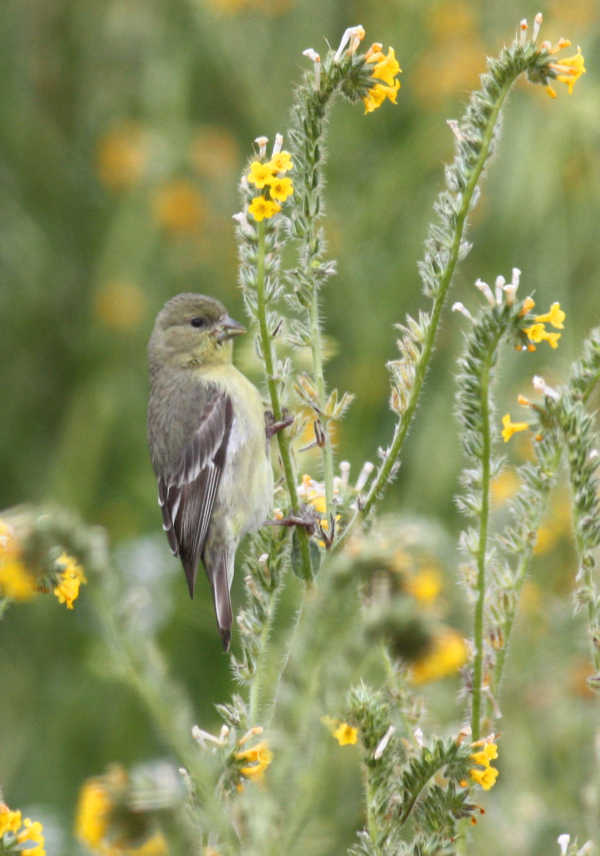 The First State Record Lesser Goldfinch has been visiting a feeder in Mobile, Alabama.
Two First State Records were recorded last week: a Lesser Goldfinch was identified as it visited a backyard feeder in Alabama, and a Sprague's Pipit was found in Wisconsin. Also, Connecticut birders found the Fifth State Record Black Guillemot. Rare birds from beyond this continent included another Siberian Accentor in Alaska, a Eurasian Skylark in California, a Lesser Black-backed Gull in Nova Scotia, and a Smew in Michigan. A Red-billed Tropicbird was mighty exciting for Maryland birders, and there are more exciting birds to report.
STATE & PROVINCIAL RECORDS
First State Record Lesser Goldfinch – Mobile, Alabama
First State Record Sprague's Pipit – near Belgium, Wisconsin
Fifth State Record Black Guillemot – Groton, Connecticut
REALLY RARE SIGHTINGS
Lesser Black-backed Gull (Heuglin's race) – New Glasgow, Nova Scotia
Siberian Accentor – Seward, Alaska
Eurasian Skylark – Loleta, California
Smew – near Allegan, Michigan
Red-billed Tropicbird – Ocean City, Maryland
Townsend's Warbler – Derry, New Hampshire
Spotted Towhee – Baldwin Harbor, New York
White-tailed Kite – Puget Island, Washington
CONTINUING RARE BIRDS
Hawfinch – Yukon
Common Shelduck – Newfoundland
Spotted Rail – Texas
Crimson-collared Grosbeaks – south Texas
Blue Buntings – south Texas
Cuban Pewee – Florida Keys
Red-legged Thrush – Florida Keys
Black-faced Grassquit – Florida Keys
Northern Jacana – southern Arizona
Garganey – Salton Sea, California
For more information, refer to the American Birding Association's Rare Bird Alert at https://www.aba.org/rare-bird-alert-january-8-2021/ Special Thanks to the ABA, and Nate Swick, who does such a great job of compiling the ABA's Rare Bird Alert, which we use to prepare this weekly replay.
You can often find more information about individual rare bird sightings from the state rare bird alert listserves that you can access at http://birding.aba.org/ or at https://www.facebook.com/groups/ABArare/